Miss Tibet
At the foot of the hill near the palace of the Dalai Lama, a miss pageant is held every year. The film shows this thrilling competition with only one participant. The story of the contrast between modern life and an ancient culture in exile.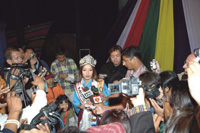 Visit: Nepal Startpagina, Tibet Startpagina, Bhutan Startpagina, Himalaya Startpagina
Siebout Leseur van Leeuwen & Tenzin Thardoe
26 min.