Chickenshit & Ash - A Visit to Paradise
The Tibeto-Burmese Culture meets the high industrialized civilization of Western Europe
Chayarsaba, an isolated mountain village in Nepal. Living here means working hard for one's food and worshipping one's ancestors and the gods, who guarantee a continued existence and provide protection from evil. The residents of this village at the foot of the Himalayas long for "another place", where, as they understand it, money makes life happier and technology work easier. The shaman and the mayor of Chayarsaba visit the "other world" in Vienna. This Austrian "village" is not the termination of heaven and earth, they claim to see paradise here, where everything gleams like a mirror, where one can eat one's fill, where the source of all food is invisible, where one can sit while working and travelling, and where machines do al lthe work. At the same time they are confused by the stored bones of the dead, the statues in the windows which wear clothes but do not breathe, and by the overweight people who use machines to squeeze out their sweat and fat. Two different cultures are contrasted on the level of personal experience and reaction - directly, spontaneously and immediately.
info: www.extrafilm.at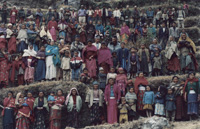 Visit: Nepal Startpagina, Tibet Startpagina, Bhutan Startpagina, Himalaya Startpagina
Karl Prossliner, Peter Freisz & Gabriele Tautscher
68 min.